Patented Original Technology for Optimal Sample Collection and Diagnostics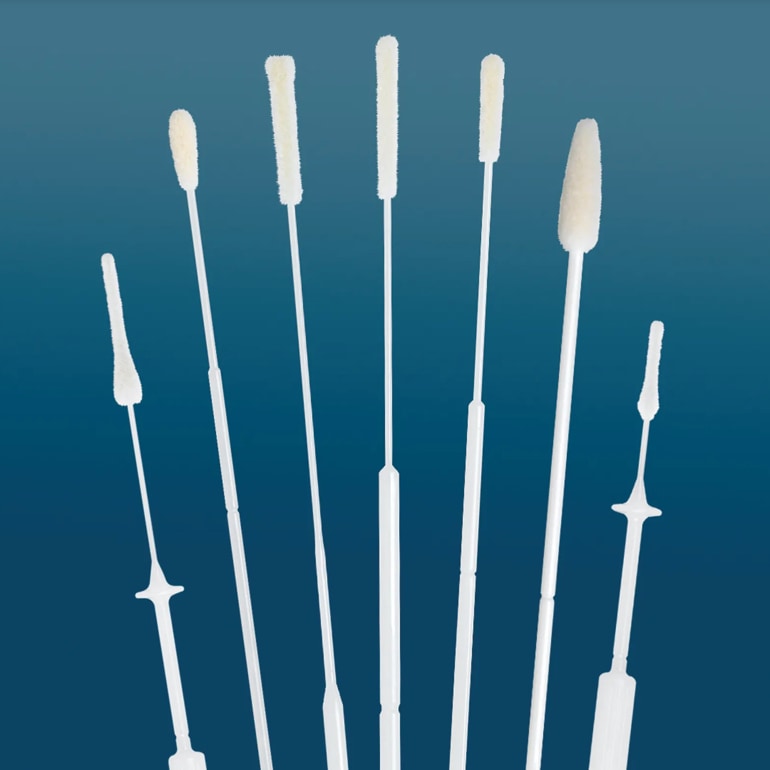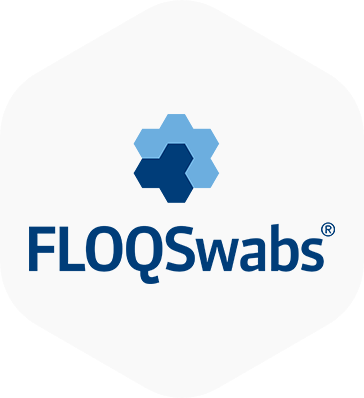 A FLOQSwab® is a flocked swab that consists of a molded plastic applicator stick with a variable size and shape tip. The tip of the applicator is coated with short Nylon® fibers that are arranged in a perpendicular fashion. FLOQSwabs® have no internal core to trap the specimen.
COVID-19 Collection & Transport Kits
During this unprecedented time, COPAN has compiled a COVID-19 resource page to facilitate answers to some of the frequently asked questions being received. Here you'll find easy access to the evolving regulatory guidelines published by the CDC and FDA, COPAN's distributor part numbers, and other resources about critical products that can be used for collecting, handling, and transporting specimens suspected of COVID-19.
More Sample Available for Testing
The flocked swab tip is coated with perpendicularly sprayed on Nylon® fibers. This coating creates a thin absorbent layer that allows for quick sample uptake and elution of more than 90% of the sample. Compare this elution to traditional spun swabs that trap the majority of the specimen in the 'mattress' structure, making it unavailable for testing, and it's easy to see why FLOQSwabs® are used by more and more laboratories and medical institutions around the world.
Better diagnostics begin with better specimen collections!
Anatomically designed FLOQSwabs® were developed out of an extensive collaboration with physicians and clinical microbiologists, and a tireless drive to optimize the efficiency of pre-analytical sample collection and transport. The results are optimized efficiency and reproducibility of the target analyte collection, enhanced flow dynamics and assay sensitivity, and expanded testing capabilities.
Innovative FLOQSwabs® improve specimen collection and testing capabilities resulting in better clinical care.
Why are flocked swabs better than traditional fiber swabs?
Clinicians report better patient comfort due to ergonomic, anatomic swab design and softer texture.
Studies show that samples collected using FLOQSwabs® improve test sensitivity because they elute more than 90% of the specimen.
Strong capillary hydraulics between the strands of Nylon® expedites maximum liquid sample uptake and release.
Soft brush-like texture of the swabs facilitates efficient dislodging of the target cells.
Compatible with multiple applications and platforms including bacteriology and virology culture, rapid antigen testing, molecular-based assays, direct fluorescent antibody (DFA) tests, enzyme immune assay testing (EIA) and cytology testing.
FLOQSwabs®, when paired with transport media for Bacteriology or Virology testing, offer exceptional value and clinical outcomes to laboratories and point of care providers.
Increased pathogen recovery when used as part of the ESwab™ system.
FLOQSwabs® paired with UTM® Universal Transport Medium make sample collection easier for physicians and less traumatic for patients when compared to nasopharyngeal aspirates or washes
Easily processed on automated specimen processors and pipettors, minimizing manual handling
Quantitative measurable and consistent sample volume transfer from patient to test tube offering potential for improved test sensitivity
US Patents #8,114,027, #8,317,728, #8,979,784, #9,011,358, #9,173,779, European Patent #1608268, Canadian Patent #2515205, Japanese Patent # 2007-523663, Australian Patent #2004226798, New Zealand Patent #541560, Chinese Patent #101103931
Find a FLOQSwab® Distributor