Patented Sample Collection and Preservation System for Enteric Bacteria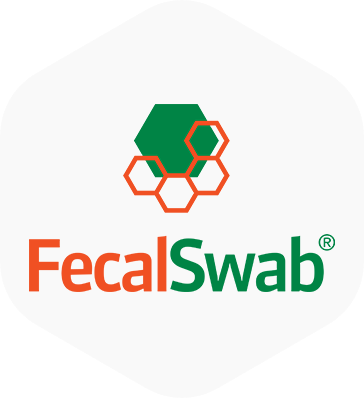 FecalSwab™ combines a COPAN-invented flocked swab with 2mL of Cary-Blair medium in a plastic, screw cap tube. Simplify and standardize fecal sample collection, transport and processing, converting semi-solid fecal matter into liquid specimens.
Easy to use FecalSwab™ is a compact and less messy alternative to traditional containers for collection, transporting and processing stool samples.
FecalSwab™ has been tested and validated in full compliance with the CLSI M40-A2: Quality Control of Microbiological Transport System Standard. The FDA cleared collection and transport system is suitable for enteric pathogen recovery using traditional bacteriology culture.
The system is also compatible with enteric molecular assays for bacteria, viruses and parasites where package inserts indicate Cary-Blair systems for sample collection*.
*Always read the manufacturer's package insert for specific instructions regarding specimen collection and transport for the type of test kit being used.
For direct stool collection, FecalSwab™ offers exceptional value to laboratories:
Smaller sample quantity, eliminating the need to vent the container, preventing messy accidents during processing
The liquid based system is easily processed on automated specimen processors and liquid pipetting systems, minimizing manual handling
Compact alternative for space efficient transportation compared with traditional bulky fecal containers
Collect samples easily by using the provided flocked swab as a transfer device from the primary collection container
The flocked swab provided with each FecalSwab™ kit can be used not only as a transfer tool for feces but also as a rectal swab.
FecalSwab™ is available with a regular flocked swab or a swab with a molded stopper intuitively designed to reach the transition zone of the rectum. Clinical studies show that when FecalSwab™ is used as a rectal swab, it performs as well as traditional Cary-Blair stool collection for detection of gastrointestinal pathogens using a molecular assay.1
FecalSwab™ is an effective rectal swab sample collection system and available with an intuitive stopper for a more standardized and consistent specimen collection
Speed time to treatment by collecting a sample immediately without having to wait for the patient to submit a fecal specimen
Pediatric sample collection is simplified using the rectal swab rather than feces taken from diapers, which may cause interference in some tests.
1. K. Chapin DM, et al. (2017). Comparison of Results Obtained with the FilmArray GI Panel using Rectal Swabs & Cary-Blair stool from Patients with Gastroenteritis in the Pediatric Emergency Dept. Poster Presented at ECCMID, Vienna, Austria
Making the change is easy.
COPAN's change management team is available to guide you during training and validation in support of new product implementation.
Find a FecalSwab™ Distributor