Automated Liquid Sample Processor for Testing of Raw Materials, Semi-Finished and Finished Products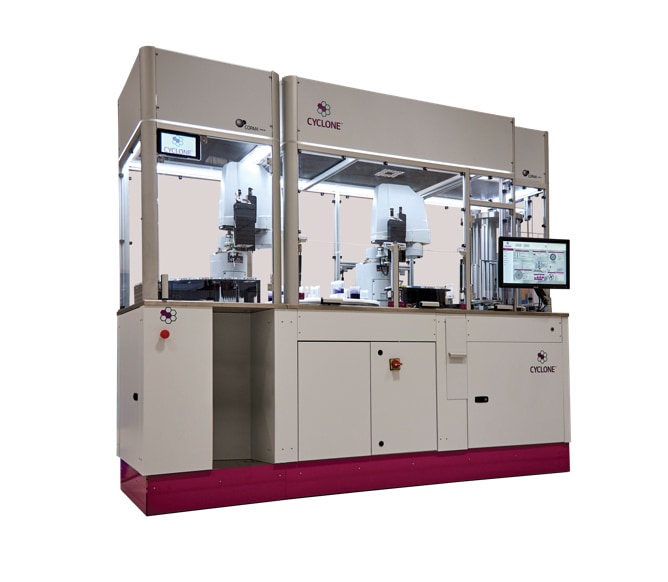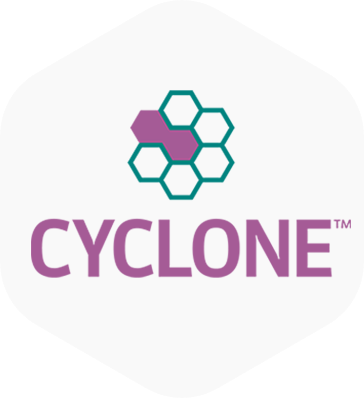 The CYCLONE™ is a fully automated instrument for pour plating, spiral plating, and spreading liquified samples for the Food Safety industry. The system is capable of automatically managing a high throughput of sample dilutions, when necessary, and it can handle multiple molten agars simultaneously. The CYCLONE™ is ideal for laboratories wanting to increase their accuracy, reproducibility and productivity, while also decreasing operational costs with labor savings and by moving away from expensive film-based agars.
Not Just an Automated Liquid Sample Processor, but a Partner for the Future
Technological innovation is nothing without human collaboration. That's why, from the installation of the first generation of automated processors in clinical Microbiology to the most recent innovation in instruments for the Food Safety industry, COPAN has continued to encourage input and foster collaboration with the Microbiology community. Around the world, as laboratories adopt automated up-front sample processing, we listen and continuously innovate to provide customized solutions designed to fit the needs of our partners.
Flexibility for a Wide Range of Samples Types and Protocols
CYCLONE™ can be configured to perform fully customizable pour plating, spread plating, and spiral plating techniques. The system is a flexible platform allowing for adaptation for the processing of different sample input containers. With the pour plate technique, plates can be routed to the internal cooling chamber to set the agar, allowing for a second overlay agar layer, if needed.
Fully customizable sample loading turntable allows for the dilution and processing of any liquified sample
Custom protocol settings allow management of all aspects of plating techniques, including sample volume, mixing duration, dilutions set, and selection of agar type(s) for each sample.
Barcode Driven System, Providing Unparalleled Traceability
CYCLONE™ protocol selection can be directed by the user or utilize bi-directional communication with any LIMS system to automatically identify the sample, determine protocol settings, and report the status of a sample.
Fully barcode-driven sample accessioning and traceability using any bottom-labeled tube, cup, or rigid container.
Sample container and agar plate labels are automatically reconciled in LIMS for complete traceability.
Record every step of the sample's journey to ensure that the laboratory will never lose track of a sample's status
Consistently Reliable, High-Quality Testing
CYCLONE™ is designed to mimic the activities of an experienced technician, diluting and plating samples with high precision and reproducibility that is only possible with automation. The design of the CYCLONE™ includes many features that reduce testing variability. The CYCLONE™ is ideal for high-throughput laboratories handling a single sample type or laboratories managing a diverse array of sample types.
Specialized liquid-sensing conductive pipette tips confirm the presence of the sample and ensure sample uptake and delivery.
Robotic pipettor never passes over another open sample container thus preventing risk of cross contamination.
HEPA filtered workspace inside CYCLONE™ continuously circulates clean air within the instrument to protect sample and test integrity.
Built-In UV lights and easy-to-clean surfaces ensure proper environmental hygiene.
Engineered and Built to Maximize Laboratory Efficiency
The CYCLONE™ addresses many aspects of sample processing so laboratory professionals can be re-deployed to higher-level tasks that require their expertise, rather than having to spend the day processing samples.
Saves time by automatically accessioning, selecting protocols, and labeling plates.
Reduces repetitive stress injuries by performing the most manually intensive tasks in a food testing laboratory, like diluting, mixing, and plating samples.
Requires minimal intervention for sample processing procedures allowing more samples to be handled without the need for additional staffing.
Open Platform Reduces Operational Costs
CYCLONE™ is the only system in the market capable of fully automating traditional sample processing techniques. It is also significantly more cost effective than utilizing agar films.
CYCLONE™ is an open platform allowing clients to use petri dishes and agar from any supplier for the most competitively priced materials.
Uses reusable and autoclavable calibrated tubing and caps to minimize consumables costs and waste.
Dispenses consistently precise agar volumes allowing the laboratory to prevent excess use of agar.
Low Maintenance Requirements and Remote Accessibility Minimize Downtime
The CYCLONE™ has an impressive 95% uptime and requires only minutes of maintenance each day. COPAN provides many kinds of on-site training classes and support options to ensure the system's continual operation.
COPAN offers fast 24/7 technical support for fast resolution and minimal downtime through remote access, achieved through a telephone hotline that connects directly to COPAN's support team, an ethernet direct access to the system, and an interface support chat system.
Additional Modules for a Customized Solution
CYCLONE™ is designed as a modular solution for the Food Safety laboratory, where optional modules can be added at any time:
Multi-Media Module: Allows for seamless transitions between different types of media and maintains up to seven molten agars available simultaneously.
Auto Diluter Module: Automatically measures and aliquots diluent, performing step dilutions for high sample throughput.
Smart Incubation and Imaging Module: Complete plate incubation management that optimizes growth conditions for faster resulting. Built-in imaging and software provide a platform for digital microbiology.
Artificial Intelligence Driven Plate Interpretation Module: Automatically performs colony counts and utilizes algorithms to detect the presence or absence of target pathogens, such as Salmonella, Listeria, or E.coli.
We help you move through your automation journey whether it is a new CYCLONE™ sample processor, or full laboratory automation using smart incubators and artificial intelligence software, or even a multi-line solution.
The CYCLONE™ open consumable platform and modular design ensures that adopting the CYCLONE™ is easy, and the system will adapt to your laboratory's workflow and needs as they change.