WASP®DT: Walk-Away Specimen Processor
A modular, open platform that fully automates all facets of specimen processing in Microbiology, including planting and streaking, Gram slide preparation, broth inoculation and disk application to aid in rapid, direct identification.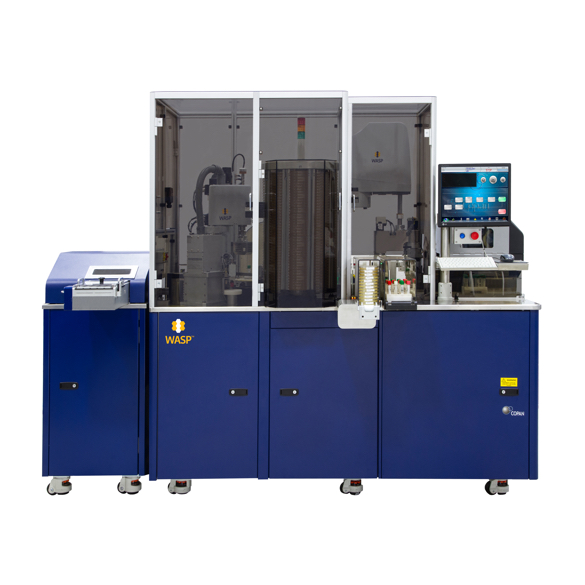 The Impact of Full Laboratory Automation
The latest issue of the Canadian Journal of Laboratory Science features the growing adoption of full laboratory automation in Clinical Microbiology. The article shows how one laboratory's implementation of WASPLab®and PhenoMATRIX® Artificial Intelligence enhanced their workflow, allowing laboratory professionals to focus on more complex and high-value tasks.
Not Just an Automated Specimen Processor, but a Partner for the Future
Technological innovation is nothing without human collaboration. That's why, from the installation of the first generation WASP® instrument to the most recent of over 600 WASP® instruments worldwide, COPAN has continued to encourage input and foster collaboration with the Microbiology community. Around the world, as laboratories adopt automated up-front specimen processing, we listen and continuously innovate.
Standardized, High Quality Planting and Streaking
WASP®DT allows the reassignment of valuable, often scarce, laboratory staff without compromising the quality or reproducibility of microbiology cultures. WASP®DT is designed to mimic a technologist, utilizing industry best practices for planting and streaking patient specimens.
LIS driven sample processing protocols automatically select appropriate loop size (1µl, 10µl or 30µl loops)
Unlike competitive instruments, the WASP®DT platform utilizes 1µl loop protocol for quantitative urine cultures using either whole plates or bi-plates, This follows the CLSI standards and microbiology best practices for culture plating, eliminating need to retrain staff for reading and interpretation of cultures.
A library of classic or customized streak patterns are available with loop sterilization between quadrants, allowing for optimal colony isolation for high burden specimens like respiratory, wound and stool.
Specialized sensors and image analysis ensures loop integrity and accuracy, confirming the presence of inoculum just prior to planting.
Automation with Proven Scientific Techniques in Mind - The Difference is Clear
WASP®DT utilizes reusable metal loops ranging in size from 1μl, 10μl and 30μl for precise sample volumes and quantitative sample analysis.
The Manual of Clinical Microbiology and Clinical & Laboratory Standards Institute (CLSI) recommend 1µL to process routine, non-invasively collected urine specimens, reserving the 10µL volume for invasively collected urine specimens or more comprehensive investigations. Other automated systems do not utilize quantitative culture loops, but instead use pipets which have a minimum volume of 10μl. Using 10μl of urine for non-invasively collected urine specimens could complicate colony counting and interpretation.
Click here to compare specimen growth on a plate using 1μl and 10μl inoculums
Using the WASP®DT allows you to switch loops between quadrants for optimal colony isolation on high bacterial burden specimens.
Walk Away from Specimen Set Up: Culture Plates, Gram Slides, Enrichment Broths and Disk Application
The WASP®DT loop change system switches automatically between 1μl, 10μl and 30μl loops depending on specimen type. Samples can be loaded continually onto the instrument, without batching, and the container grippers and decappers adjust automatically to any specimen container type.
Because the system addresses all aspects of specimen processing from planting and streaking, to slide preparation and labeling, laboratory professionals can be re-deployed to higher level tasks that require their expertise, rather than having to spend the day processing specimens or interacting with an instrument.
Load specimens at random without batching or stopping the instrument to reload
Universal decapper automatically removes caps and recaps a variety of specimen containers
Save time with automatic accessioning of specimens into the LIS
Maximize Automation Investment
Other systems employ a mechanized manual approach, automating some processes but leaving others to be done manually. WASP®DT requires no manual intervention for specimen processing procedures.
While non-liquid samples or traditional swabs can certainly be managed using the WASP®DT streak only function, COPAN's recommends Liquid Based Microbiology (LBM) product line, which allows all samples to be liquefied and made ready for automation.
Learn more about the first step to automation and simplified collection and processing for almost all samples that come into your laboratory:
Engineered and Built to Minimize Operational Costs
While other systems use disposable pipets and metal beads for each sample, WASP®DT uses reusable metal loops reducing operational and hazardous waste disposal costs.
Fully electric system eliminates the need for compressor or additional utility costs.
Open platform accommodates any manufacturers' media, allowing users a choice in their culture plates.
Eliminate Contamination Risk
HEPA filtration system continuously circulates clean air within the instrument's critical work environment.
Individualized specimen management, containment, and confinement measures ensure a clean work environment.
Barcode Driven System Improves Specimen Traceability
Our Smart 360° scan technology reads specimen barcode labels regardless of how they are applied to the container.
In the case of multiple labels/multiple barcode languages, the software discerns and reads the correct label.
Labels on completed plates, gram slides and inoculation tubes are reconciled to the patient specimen barcode for traceability.
Additional Modules for a Customized Solution
Broth and Disk Module

Complete specimen processing with automatic enrichment broth and a direct identification disk dispensing module.

Gram SlidePrep

Automatically prepare Gram stain slides, including laser printing of the patient identifiers, eliminating the need to manually pre-label slides.

Dual loop

Maximize throughput by simultaneously streaking both sides of bi-plates.
Begin your automation journey
We help you move through your automation journey whether it's a new WASP®DT processor, or full laboratory automation using WASPLab®, PhenoMATRIX™ artificial intelligence software, or a multi-line solution with WASP-FLO™, our bulk specimen sorter.