FLOQSwab®: Frequently Asked Questions
---
What is a Flocked Swab?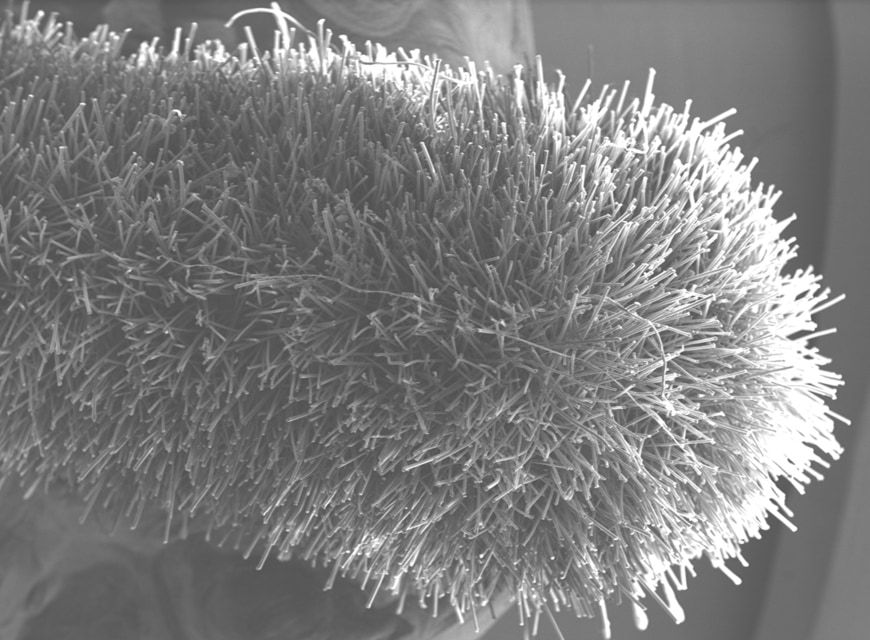 Invented by COPAN, flocked swabs are a special type of swab produced with an applicator tip that is spray-coated with short Nylon® fibers arranged perpendicularly. Unlike traditional swabs made with materials that can trap the specimen, flocked swabs use a thin absorbent layer of Nylon® fibers with no internal core, allowing greater sample uptake and release.
---
How where Flocked Swabs Invented?
In the early 2000s, the late Daniele Triva had a breakthrough idea for a type of swab that would be a game-changer in the industry that would prove to outperform any traditional fiber swabs on the market. This new 'flocked swab' had an innovative new tip design where the tip is spray-coated with a thin layer of Nylon® fibers onto a solid plastic shaft.
This thin absorbent layer of fibers allows for substantial swab performance improvements in quick sample uptake and elution. COPAN's unique quantitative approach to diagnostics and passion for innovation drove research and development, and as a result, in 2004, COPAN invented and introduced the first flocked swabs to the market.
---
What Makes Flocked Swabs Different Than Traditional Swabs?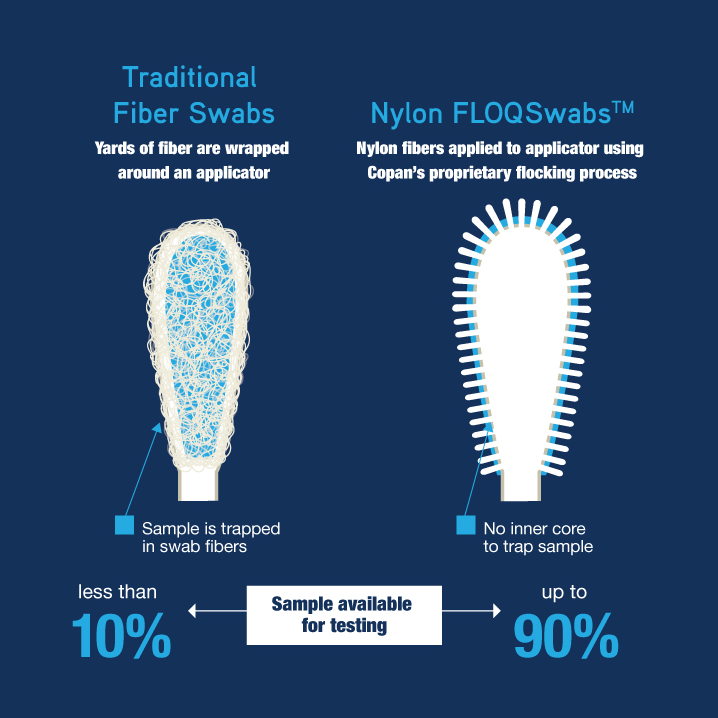 The flocked swab tip is coated with perpendicularly sprayed on Nylon® fibers. This coating creates a thin absorbent layer that allows for quick sample uptake and elution of more than 90% of the sample. Compare this elution to traditionally spun swabs that trap most of the specimen in the 'mattress' structure, trapping the specimen and reducing testing sensitivity. It's easy to see why FLOQSwab® is used by more and more laboratories and medical institutions around the world.
---
Why Are COPAN FLOQSwab® the Superior Flocked Swabs on The Market?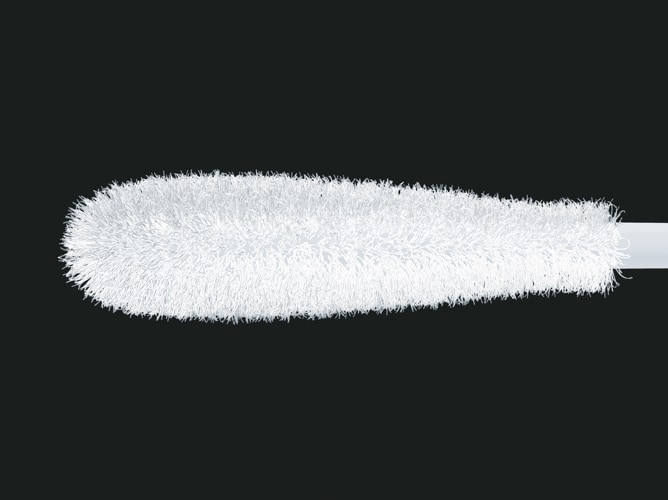 COPAN is the original inventor of flocked swab technology, and development didn't stop there. COPAN's standard of relentless innovation has further refined and improved flocking technology for decades.

COPAN has always had a quality-first approach. COPAN worked with the Microbiology community to set the international protocols for testing transport swabs. The M40-A Quality Control of Microbiological Transport Systems standard, by CLSI (fka NCCLS), created a new performance benchmark for swab collection and transport systems for users and manufacturers. They demonstrated COPAN's devotion to excellence in quality and preanalytical innovation.
---
Is there Research that Shows the Flocked Swabs Perform Better?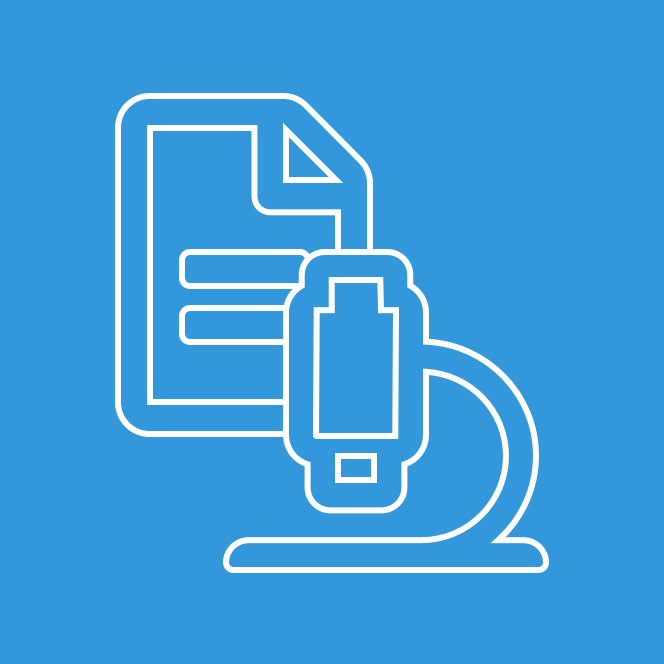 Our products are backed by research, and many peer-reviewed studies prove the effectiveness and superiority of Flocked Swabs over traditional swabs. Visit our Scientific Studies Page to read the latest publications.
---
What Kind of Flocked Swabs Are Available from COPAN?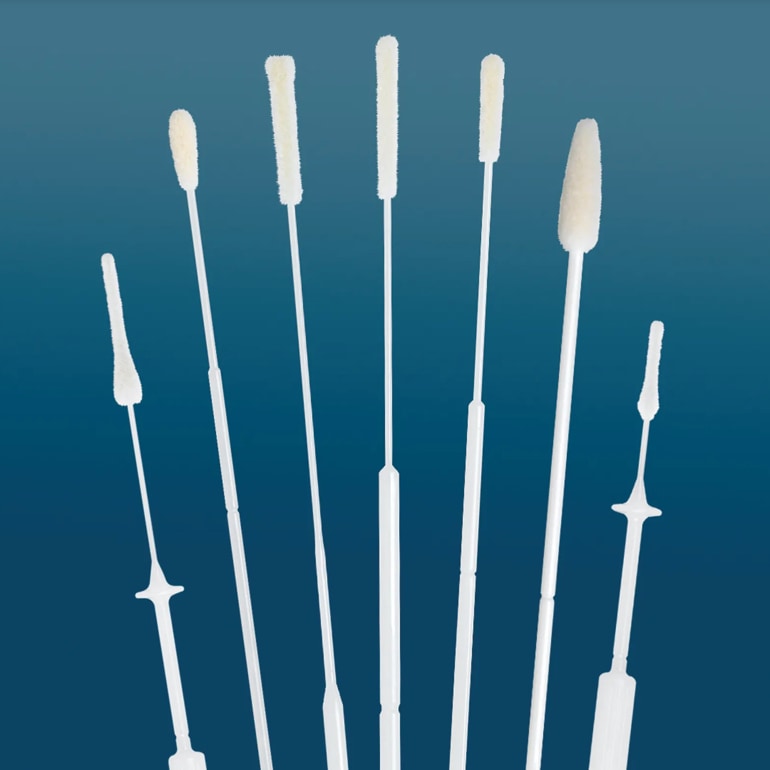 Flocked swabs are available in many sizes and shapes to fit a variety of applications. Anatomically designed flocked swabs were developed out of extensive collaboration with physicians.
The resulting FLOQSwabs® designs are optimized for the target analyte collection's efficiency and reproducibility, enhanced flow dynamics, assay sensitivity, and expanded testing capabilities.
Flocked Swabs are commonly used in microbiology, virology, molecular biology, forensics, and environmental sampling. Our product finder can help you find the perfect swab for your application.
---
What is a Swab Breakpoint?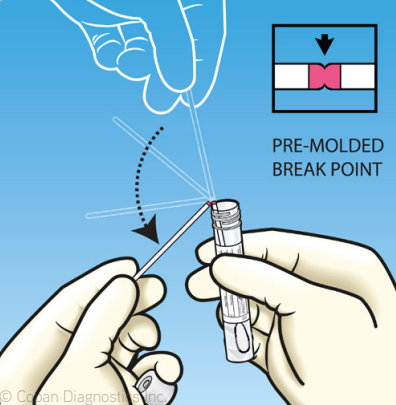 Some varieties of flocked swabs include a molded swab 'breakpoint.' The breakpoint is a perforation in the swab's shaft that allows you to break off the swab into a transport tube easily. There are several breakpoint lengths for different tube lengths available.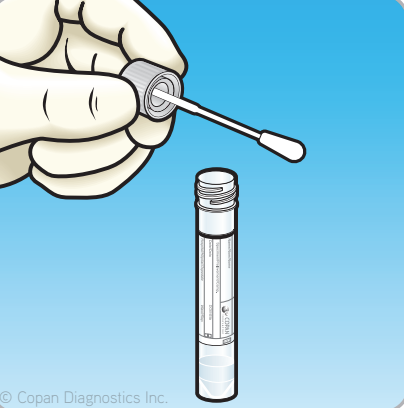 Some transport tubes are designed with a 'capture cap' so the swab can easily be removed by laboratory personnel or by laboratory automation.
---
Are Flocked Swabs Used For Flu Testing?
Yes, Flocked Swabs, along with transport media like UTM®: Universal Transport Medium™, are ideal for collecting, transport, and maintaining respiratory viruses like influenza specimens.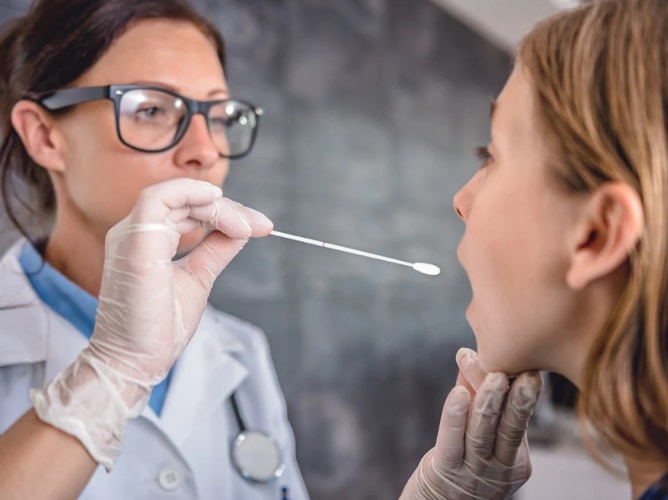 ---
Are Flocked Swabs Used for COVID-19 Testing?
Yes, flocked swabs are preferred for the collection of COVID-19 specimens. COPAN has compiled a COVID-19 resource page to facilitate answers to some of the frequently asked questions being received. Here you'll find easy access to the evolving regulatory guidelines published by the CDC and FDA, COPAN's distributor part numbers, and other resources about critical products that can be used for collecting, handling, and transporting specimens suspected of COVID-19.
---
How Are Flocked Swabs Sterilized?
Copan flocked swabs are sterilized using ethylene oxide (EO).
Safety Information About Ethylene Oxide (EO) Sterilization:
According to the CDC, Ethylene Oxide (EO) gas is the most common way to sterilize medical devices accounting for about fifty percent of all sterile medical devices in the U.S., and is considered a safe and effective method that helps ensure the safety of medical devices and helps deliver quality patient care.
The EO sterilization process is conducted exclusively in plants specifically authorized and certified to sterilize medical devices. Before being placed on the market, medical devices sterilized by EO are subjected to rigorous controls to ensure they are safe to use. In addition, international standards established by the EPA, OSHA, and other government agencies tightly regulate the EO sterilization process to ensure negligible residues are left on the product after its exposure to EO gas. Copan stringently follows all applicable regulatory requirements for the EO sterilization process.
Read USA Today's Article – Fact check: Gas sterilization of COVID-19 test swabs is safe, won't cause cancer
Learn more from – ChemicalSafetyFacts.org
---
Where Can I Order FLOQSwab®?
In the United States, COPAN does not sell sample collection products directly to clinical laboratories. Our products are available through our distribution partners.
Distributor Links
*Always read the manufacturer's package insert for specific instructions regarding specimen collection and transport for the type of test kit being used.
** Check for current guidance with the FDA, CDC, or other local, state, or federal governing bodies for the latest recommendations.