SCACM, Microbiology and Full Laboratory Automation- Do You Have the Answers You Need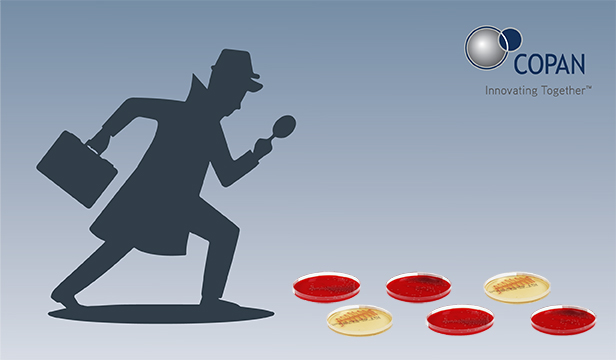 Microbiologists are a lot like great detectives. They sift through sometimes thousands of plates to locate the plates with growth that appear positive and require further workup. Then their expertise is required to hunt out and uncover just what exactly is growing on that plate to identify the organisms and treat the patient. With so many plates to read, any lab technologist may wish they were Inspector Gadget with all his incredible tools to help him solve the mystery. Wouldn't it be helpful to have super human eyes to easily detect the positive plates? Now, what if the technology for Microbiology labs to have their very own "go-go gadget binoculars" already existed? Would it be sensitive enough to detect positives? Would it be able to differentiate significant growth?
Similar questions have been posed by different researchers, such as Karen Timm et al, from TriCore Reference Laboratories, in the poster presented at the 2017 ASM Microbe in New Orleans, LA entitled Expert Image Analysis by COPAN WASPLab to Evaluate Urine Cultures. The study tested WASPLab's *PhenoMATRIX™ image analysis software's ability for differentiation of growth and colony morphology in urine cultures. The study looked at the system's ability "to distinguish between positive and negative cultures and make presumptive determination of colony morphology to determine significant and non-significant cultures."
Just looking at the description some may question how software can possibly apply such a level of accuracy and presumptive differential analysis? Yet, the study confirmed that the COPAN expert image analysis software, PhenoMATRIX™, can differentiate positive and negative urine cultures with a high sensitivity of 99.9 % and negative predictive value. This allows for use as a screening tool to eliminate negative and normal flora and would be an effective mechanism to reduce unnecessary review of negative cultures.
A deeper look into the results reveals that the system identified positive urine cultures as defined as >10 CFU (as set by the user-defined threshold) with 99.9% sensitivity and 80.0% specificity. In addition, each of the isolated colonies were cross referenced with a phenotypic database, then grouped by their phenotypic similarities and categorized into a classification group. Over 181 known organisms were classified with 100% agreement of the Gram and 65-100% of the colony in morphologic groupings. Essentially, COPAN PhenoMATRIX™ accurately classified urine cultures on Blood Agar/MacConkey bi-plates as growth and no growth at a sensitivity of 99.9%.
If you are not familiar with Microbiology's Full Laboratory Automation just yet, and it is still raising some questions, the annual SCACM meeting, on March 7 – 10 in French Lick, IN is the perfect place to get answers! The conference will include an industry sponsored workshop on Thursday, March 8 from 8:30 to 9:30 am dedicated to update microbiologists about the latest image analysis and AI for Microbiology currently available from COPAN.
Dr. Julie Ribes, Director of Clinical Microbiology at the Department of Pathology and Laboratory Medicine at the University of Kentucky, will be presenting on the effects of WAPSLab™ including the turnaround time improvement as a result of adopting full laboratory automation and digital Microbiology. Her firsthand experience and research are an asset to anyone interested in Full Laboratory automation or simply want to learn more about what this paradigm shift in Microbiology brings for laboratories, results and patient care alike.
Like any great detective, Microbiologists know that fast and accurate answers are crucial. With WASPLab® and its PhenoMATRIX™ Algorithm software suite, both are possible. By implementing Full Laboratory Automation and Digital Microbiology, laboratories now have their own personal Inspector Gadget, helping with them every single case that passes through their doors.
If you are planning to attend SCACM, and would like to join us for the workshop WAPSLab™ Measuring It's Worth, email us today!
*PhenoMATRIX™ is available as RUO.