MSwab® is a collection, transport and preservation system designed for rapid direct nucleic acid heat extraction for real-time PCR and isothermal amplification for molecular assays.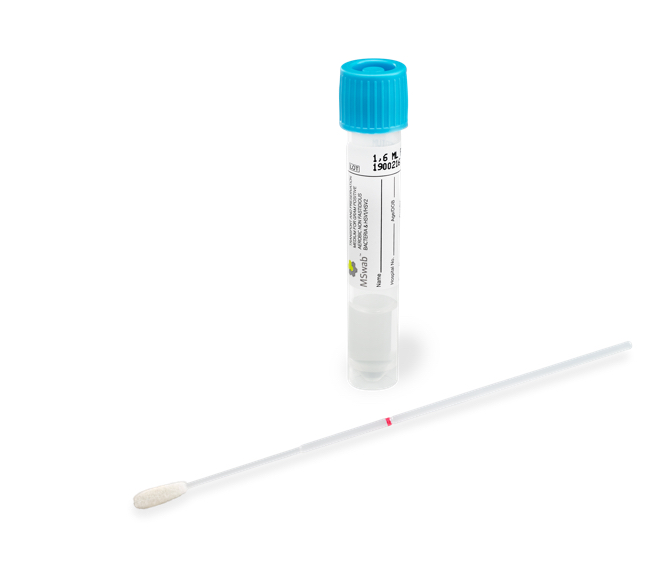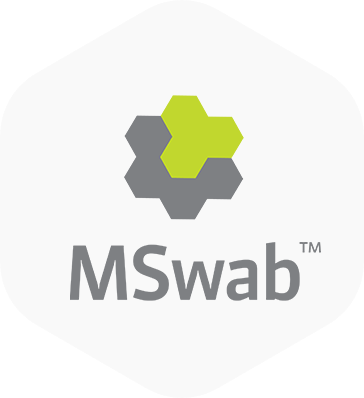 MSwab® has the advantage of enabling reflex culture for traditional culture of gram-positive aerobic and facultative anaerobic bacteria.
MSwab® combines a COPAN-invented FLOQSwab® with a proprietary media developed to prevent degradation of samples for PCR and molecular assays.
The key advantages of MSwab® are that it enables a crude lysate to be prepared in less than 5 minutes, and specimens can be aliquoted directly into Master Mix. As the molecular industry trends toward more direct assays, MSwab® offers the technological advantage for direct sample testing with minimal sample preparation and without a purification step. If you are interested in utilizing MSwab with your latest assay, contact us.
Dual Purpose System Designed for Workflow Efficiency
MSwab® uses the COPAN-invented FLOQSwab® to fully elute the sample into the media, creating a homogeneous suspension for traditional culture for gram positive aerobic bacteria and facultative anaerobic bacteria. MSwab™ is qualified for the Roche cobas® 4800 System for MRSA/SA and HSV 1 & 2.
Easy to Use System Prevents Handling Errors and Improves Workflow Efficiency
The flexibility of MSwab® to transport and maintain samples for multiple applications in a single tube can reduce manual effort and prevent handling errors for a more efficient daily workflow.
For many assays, MSwab® is ready-to-use, can be stored at room temperature, and does not require any prior sample treatment. Samples transported in MSwab® can be simply mixed and loaded directly onto the qualified assay.
MSwab® May Be Used with Other Molecular Assays with Self-Validation
MSwab® is qualified on Roche MRSA/SA and HSV 1 & 2 molecular assays on the cobas® 4800. *
Contact us for more information regarding validation support.
* Always read the manufacturer's package insert for specific instructions regarding specimen collection and transport for the type of test kit being used.