The Technology Leader in Microbiology Full Laboratory Automation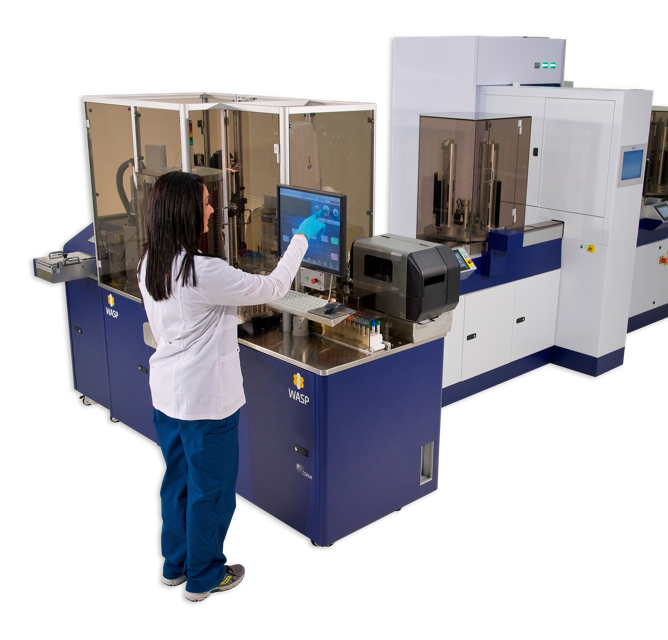 The Impact of Full Laboratory Automation
The latest issue of the Canadian Journal of Laboratory Science features the growing adoption of full laboratory automation in Clinical Microbiology. The article shows how one laboratory's implementation of WASPLab®and PhenoMATRIX® Artificial Intelligence enhanced their workflow, allowing laboratory professionals to focus on more complex and high-value tasks.
WASPLab® is a highly efficient, modular, scalable and customizable specimen processing, culture incubation and work-up system for Clinical Microbiology.
Specimens move from front-end processing, to Smart Incubation, and Digital Microbiology with Artificial Intelligence/Interpretive Algorithms for automatic plate reading.
Microbiology laboratories handle a multitude of specimen types and containers. Each laboratory has a particular set of procedures, workflow, and needs; a one size fits all approach to automation is not acceptable. WASPLab® is not a closed box solution requiring the laboratory to change and adapt, but rather an open platform with customized modules and workflows. As laboratories introduce full laboratory automation, we listen to your needs and continuously strive to innovate. WASPLab® and our suite of automation solutions are a direct reflection of what we stand for at COPAN: Innovating Together.
Customized Solutions that Fit the Laboratory Now and into the Future
Your laboratory is unique. You need an automation solution designed to fit your space and your workflow. Most clinical Microbiology laboratories are challenged by a limitation of space. The WASPLab® footprint of processors, track and Smart Incubators can be configured to fit into even the most confined spaces.
Flexible, Traceable and Space Efficient
Work-up canisters for easy plate retrieval allow laboratories the flexibility to grow and add additional work stations without the expense of needing more track and more space.
Easily manage and maintain traceability of all culture plates, even those that require re-incubation using our manual re-loading carousel in the line.
A space efficient footprint and a lighter weight instrument and materials make the WASPLab® system adaptable to buildings with floor weight load restrictions or other resource constraints.
Our automation and sizing team is ready to work with your lab to find the perfect solution. Contact us!
Two-way, track-to-bench solutions are available upon request
Shorten Turnaround Time with High Capacity, Efficient Smart Incubators
Microbiology is an essential part laboratory medicine, playing important roles in patient care, antibiotic stewardship, and infection control; all of which require accurate and timely laboratory results. The use of WASPLab® Smart incubators can reduce reporting time to physicians, decreasing time to begin or modify patient therapy, and shorten patients' length of hospital stay.
Consistent uninterrupted incubation environment speeds bacterial growth resulting in improved turnaround time. *
Dual robot system quickly retrieves plates from unique location shelves.
Prevents condensation on agar with automatic plate inversion, based on protocol.
Easy to clean removable shelves.
* Based on current user experiences. Varies based on validation and user preference.
It All Begins at Time Zero
WASPLab® image acquisition technology utilizes a telecentric linear camera to take a critical time zero image of each plate entering the incubator. This step allows comparative differential image analysis, which alerts the software to a change from the initial plate image to later images with bacterial growth. A time zero image is fundamental for accurate pre-assessment and growth interpretation decisions using PhenoMATRIX® software algorithms.
WASPLab® Digital Microbiology – The Results are Clear
Reduce eye strain with clear and perfectly focused images obtained using a highly sophisticated lighting and camera system.
Multiple lighting systems allow users to choose optimal view for each plate.
A 27-megapixel plate image.
9mm depth of field allows perfect focus on all colony types.
Telecentric camera optics ensures no image distortion.
Through advanced Artificial Intelligence (AI) and interpretative algorithms (IA), the software automatically pre-assesses and pre-sorts culture plates allowing Microbiology technologists to read, interpret and report bacterial cultures with the click of a button!
Screen, Read, Select and Report (SRSR) in an Instant - Never touch a negative plate again!
Screening
Plate images are presented to user for review.
Images are grouped according to colony count as desired.
Users send plates requiring further investigation to Reading...
Reading
Plates requiring further investigation are displayed.
Users can zoom in at 45x to select colonies, assign presumptive identifications, and/or indicate the need for further work up by MALDI-TOF, other identification systems, AST, subculture, etc.
Selecting
Images with digitally tagged colonies are reloaded and reviewed for instructions of additional work-up.
When conducting work manually, users can obtain culture plates from canisters for review/use on the bench.
Reporting
WASPLab® software sends results to the LIS then archives images if needed for later review. These images can also be used for training and competency testing of staff, as well as integrated into other laboratory metrics and quality indicators.
Begin Your Automation Journey
Whether your automation journey begins with our up front specimen processor, WASP®DT, or with implementation of full laboratory automation using WASPLab®, PhenoMATRIX® AI/IA software, and/or a multi-line solution with our bulk sample sorter, WASP-FLO™, COPAN will work tirelessly to ensure your laboratory experiences the cost savings, improved workflow, and increased accuracy that automation has to offer.