Developed for genetic analysis, COPAN's Human DNA Free (hDNA Free) FLOQSwabs® are certified sterile, free of amplifiable Human DNA and free of detectable DNase and RNase.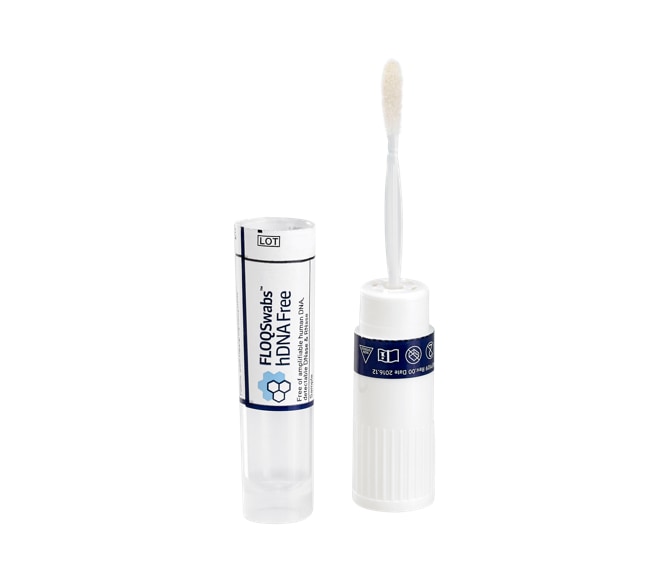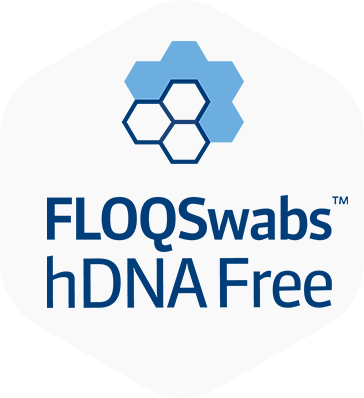 Human hDNA Free FLOQSwabs® are a non-invasive, painless and cost-effective system for DNA collection. These collection systems are used for various genetic applications, including the study of human microbiota for analysis of their role in health and disease, as well as genetic variations to provide predictive information about common traits or ancestry.
FLOQSwabs® hDNA Free Medical Devices
Patented Technology for DNA Collection for Genetic Applications
Medical Grade FLOQSwabs® hDNA Free products consist of plastic applicators with a variable size tip coated with Nylon® fiber strands.
Reliable and Comfortable Collection
When compared to traditional fiber swabs, FLOQSwabs® rapidly absorb and release specimen more effectively to immediately release sample into assay reagents, buffer solutions or products for long term storage of nucleic acids, such as COPAN NUCLEIC-CARD™
Improves patient comfort with anatomic design and soft texture. FLOQSwabs® hDNA Free Medical Devices collect painless samples, when compared to blood samples collected using hypodermic needles
Optimal Testing and Traceability
By recovering over 90% of available DNA sample using COPAN's unique FLOQSwabs® hDNA Free Medical Devices, assay sensitivity increases, and DNA recovery is maximized
To ensure the highest level of accuracy, FLOQSwabs® hDNA Free are certified DNase-Free, RNase-Free and are free of amplifiable human DNA
Open, flocked swab Nylon® fibers serve as a soft brush and allow for improved collection of cell samples for better DNA sample recovery
Each FLOQSwab® hDNA Free tube is identified with a data matrix code that assigns unique numeric data to guarantee sample traceability and tracking
FLOQSwabs® hDNA Free Medical Devices products have been successfully implemented with many genetic applications, including:
Human Leukocyte Antigen (HLA) Typing
Single Nucleotide Polymorphisms (SNP) Genotyping
Screening for Food Intolerance
Anti-Aging Tests
Celiac Genetic Testing
Predictive Genetic Testing
US Patents # 8,114,027, #8,317,728, #8,979,784, #9,011,358, #9,173,779, European Patent #1608268, Canadian Patent #2515205, Japanese Patent # 2007-523663, Australian Patent #2004226798, New Zealand Patent #541560, Chinese Patent #101103931