COPAN FecalSwab for Infection Control Surveillance of ESBL, CRE and C. difficile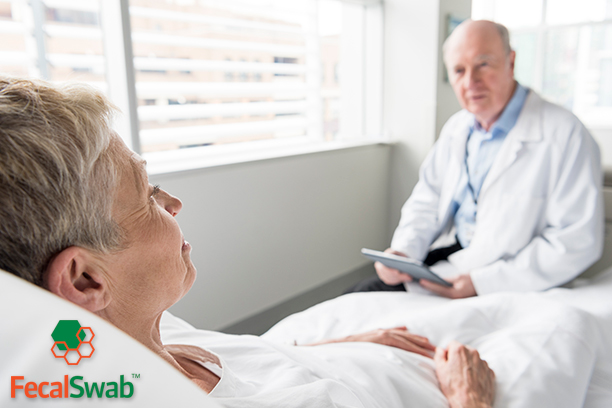 The word "Healthcare," connotates endless situations and scenarios and while technology for healthcare is evolving, so are the bacteria that cause people to turn to it. There has been an increase in Multidrug Resistant Organisms (MDRO's) aka "Super Bugs," which have resulted in an upsurge of Antibiotic Stewardship Programs for the prevention, isolation and intervention of such incidents. One way to protect against MDROs involves active screening. A recent study by NorthShore University HealthSystem/Evanston Hospital, in Evanston, IL focused on long-term acute care hospitals (LTACHs) and active screening for the presence of ESBLs, CREs and C. difficile, specifically. Presented as a poster at the 2018 ECCMID Meeting in Madrid, Spain, it is entitled "Detection of High Rates of Multidrug Resistant Bacteria Carriage with Extended Spectrum β-Lactamases (ESBLs), Carbapenem Resistant Enterobacteriaceae (CRE) and Clostridium difficile Using the Copan FecalSwab®."
As part of a prevention plan in the greater Chicago area, two Long-term Acute Care Hospitals were chosen due to their complex patients, with critical care needs and multiple chronic diseases, which makes them prone to contracting or spreading MDROs with co-colonization with C. diff. Between April and September of 2017, the COPAN FecalSwab® was tested against a regular rayon swab to determine MDRO carriage rates and whether they could be isolated and help prevent the spread of such organisms.
For the study out of the 119 patients that were eligible, 107 received paired rectal swabs necessary. To detect the presence of C. diff, FecalSwab® was used in conjunction with the Cepheid Xpert® C. difficile/Epi PCR assay. The team transferred 400µL of sample from the FecalSwab® transport tube into the elution reagent tube and vortexed it at high speed for 10 seconds, before being placed inside the specimen chamber of the Cepheid Xpert® C. difficile/Epi cartridge for Real-time PCR. Testing for CREs was performed using the GeneXpert® Dx instrument with the Cepheid Xpert® Carba-R PCR assay following the same procedure as testing for C. diff.
To cross-reference the results, and compare the presence of growth compared between the two swabs, traditional culture was also performed, using both the FecalSwab® and the double regular rayon swab. For the detection of both ESBLs and CREs, researchers took 10µL of sample from the FecalSwab® and directly plated onto one-half of a Hardy CHROMagar™ ESBL plate, and one of the rayon rectal swabs was simultaneously plated onto the second-half. The plates were then incubated at 33-35˚C for up to 24 hours before being examined for colonies of interest and then sub-cultured to a Blood Agar Plate (BAP) for isolation. The final identification of suspected organisms was done with MALDI-TOF, and susceptibility testing was performed by the Kirby-Bauer disk test following CLSI guidelines. Furthermore, Cefotaxime and Cefotaxime-clavulanate disks and Ceftazidime and Ceftazidime-clavulanate disks were used for phenotypic testing to detect ESBL.
C. difficile culture confirmations were performed on any PCR positive C. difficile specimens, and an equal number of negative samples with both rectal swabs. They were then incubated in an anaerobic jar for 5 days at 37 ˚C. Any presumptive C. difficile colonies received Gram stain and aerotolerance testing. Any spore forming, anaerobic Gram-positive rods that were PRO disk positive.
The results of all the testing found that 9 out of the 107 patients (8%) had been determined positive for C. diff by PCR with FecalSwab®, and 7 out of 9 were also positive by culture. The 2 discrepant results were tested again and found positive by PCR. In addition, 46 out of the 107 (43%) patients had at least one MDRO.
The study demonstrates that there is in fact a high rate of Gram-negative MDRO and C. difficile carriage (46%) in Long-term Acute Care Hospital facilities. However, the positive discovery is that FecalSwab® facilitates single specimen collection that can be used for both culture and molecular testing for active surveillance of at risk patients. In addition, it has a high sensitivity and specificity for rectal detection of CREs, ESBLs and C. difficile. Therefore, COPAN FecalSwab® is a great tool to incorporate as part of an infection control surveillance program!
To request a sample, contact us today!