COPAN's Science-Driven Approach to Ramping Up COVID Collection Products One Swab at a Time
Detection. It's one of the critical weapons in the battle against a virus that looks and acts like so many others. When SARS-CoV-2 first hit our shores, while we understood little about the novel virus, we did know one thing — there weren't nearly enough collection kits available to accommodate the sudden surge in testing.
By the end of March 2020 only 112,109 tests had been conducted in the United States, since then that number has ballooned to a total of 186 million tests as of November 26, 2020.1 COPAN Diagnostics responded to this demand by opening a new facility in Carlsbad and subsequently ramping up production of its UTM®: Universal Transport Medium™.
During this past year, the scientific community has conducted numerous studies, learning that COPAN's versatile line of specimen collection swabs and transport media are effective and efficient tools for the detection of the SARS-CoV-2 virus.
"We are fortunate that the last year has given us many studies to better understand the diagnostics used for the detection of this virus," said COPAN Scientific Director, Susan Sharp. "And we know how well COPAN's collection swabs and media have fared against SARS-CoV-2 since they have been evaluated in a number of published studies over the past several months."
Study on Swab & Media Type
Many of these studies, including an April 2020 one performed in Washington, have examined which specimen type, swab and media formulation make up the best system for SARS-CoV-2 detection. The Washington study explored the equivalency of patient-collected COPAN flocked swabs with specimens taken from the tongue, nasal specimens collected with foam swabs and COPAN mid-turbinate (MT) collections compared to samples collected by healthcare workers on polyester nasopharyngeal (NP) samples.
The results? The sensitivity for detecting SARS-CoV-2 in patient-collected tongue, nasal and MT samples was 89.8%, 94.0 and 96.2, respectively. Those numbers led the authors to conclude that patient-collected nasal and MT samples demonstrated high sensitivity for SARS CoV-2 detection compared to health care worker-collected NP samples.2
Study on Swab Site
COPAN's swabs were also the star of the first pediatric study concluding that swab-based SARS-CoV-2 testing is the preferred choice for children. The study — published in the Pediatric Infectious Disease Journal in September 2020 — evaluated the results of both oropharyngeal and MT samples collected from children with COPAN flocked swabs. The researchers concluded that the MT swabs demonstrated a significantly higher positivity rate versus the oropharyngeal swab testing when detecting SARS-CoV-2.3
This study is quite the win-win for children, their parents and healthcare workers, considering the ease of nasal versus oropharyngeal collection.
Study on Alternate Collection Methods
Researchers in another study alluded to the "global shortage of nasopharyngeal (NP) swabs typically used for respiratory virus detection." At the time the study was conducted in July 2020 when the COVID-19 pandemic was in its infancy, the supply of collection devices was still low. In response, the researchers examined alternative collection methods and decided to collect samples with COPAN's flocked NP swab, place it into 3 mL of COPAN's UTM®: Universal Transport Medium™ and combine that with the Aptima® Multitest Swab Specimen Collection Kit from Hologic.
The results showed that the combined oropharyngeal/nares swab is a suitable alternative to NP swabs for the detection of SARS-CoV-2, with sensitivities of 91.7% and 94.4%, respectively.4
Study on The Use of ESwab™ for COVID Specimen Collection and Transport
A variety of studies also evaluated the power of COPAN's ESwab™. This collection and transport system combines a COPAN-invented flocked swab with 1 mL of Liquid Amies in a plastic, screw cap tube. One Journal of Clinical Microbiology study that compared COPAN's ESwab™ to COPAN's NP flocked swabs, concluded that ESwab™ is a suitable alternative to the flocked NP/UTM® collection system.5 It is important to note that ESwab™ is primarily a bacterial collection and transport system. And while it is a suitable alternative if a viral transport is not available, laboratories are encouraged to use UTM ® for viral testing as a first choice when available.
At the beginning of that study the researchers quoted World Health Director-General Tedros Adhanom's statement regarding the importance of testing in the battle against COVID-19.
"You cannot fight a fire blindfolded. And we cannot stop this [COVID-19] pandemic if we don't know who is infected," he said. "We have a simple message for all countries: test, test, test…"
At the beginning of this deadly pandemic, the issue the lack of collection systems was a serious issue, but thanks to the relentless spirit of COPAN's employees, and the scientific community at large, we have managed to help offset this shortage and begin to pull the world out of this global tragedy.
"COPAN has worked diligently and relentlessly producing products that will help the world through this pandemic, working with researchers and the FDA to evaluate and document appropriate swabs and transport media and devices for collections," said Sharp. "COPAN is committed to continue these efforts so that specimens are appropriately collected and effectively and safely transported to testing areas and sites."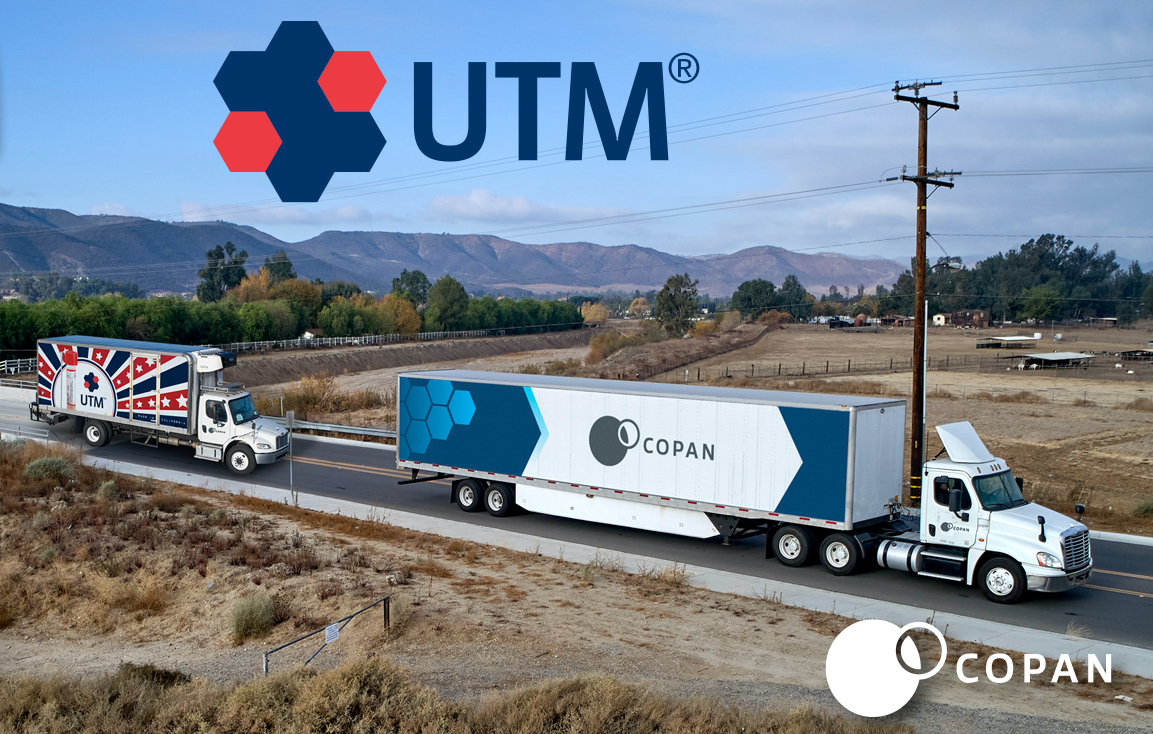 About COPAN
With a reputation for innovation, COPAN is the leading manufacturer of collection and transport systems in the world.  COPAN's collaborative approach to pre-analytics has resulted in Flocked Swabs, ESwab™, UTM®: Universal Transport Medium™, and laboratory automation, WASP® and WASPLab®.  COPAN carries a range of microbial sampling products, inoculation loops, and pipettes.  For more information, visit www.copanusa.com.
---
References:
1. Statista. Number of COVID-19 tests performed daily in the U.S. from March 1 to November 26, 2020. Accessed January 29, 2021. https://www.statista.com/statistics/1111601/covid-19-tests-carried-out-daily-in-the-us/
2. Tu, YP et al. Patient-collected tongue, nasal, and mid-turbinate swabs for SARS-CoV-2 yield equivalent sensitivity to health care worker collected nasopharyngeal swabs. medRXIV preprint. April 6, 2020. doi.org/10.1101/2020.04.01.20050005
3. Palmas, G et al. Nasal Swab as Preferred Clinical Specimen for COVID-19 Testing in Children. Pediatr Infect Dis J. 2020;(9):e267-e270. doi: 10.1097/INF.0000000000002812
4. LeBlanc, JJ et al. A combined oropharyngeal/nares swab is a suitable alternative to nasopharyngeal swabs for the detection of SARS-CoV-2. J Clin Virol. 2020;128. doi.org/10.1016/j.jcv.2020.104442 5. Vermeiren C et al. Comparison of Copan ESwab and FLOQSwab for COVID-19 Diagnosis: Working around a Supply Shortage. J Clin Microbiol. 2020; 58(6): e00669-20. doi: 10.1128/JCM.00669-20
COVID-19 Resources
COPAN has compiled a COVID-19 resource page to facilitate answers to some of the frequently asked questions being received. Here you'll find easy access to the evolving regulatory guidelines published by the CDC and FDA, COPAN's distributor part numbers, and other resources about critical products that can be used for collecting, handling, and transporting specimens suspected of COVID-19.
Click Here to Go to the COVID-19 Resource Page for Coronavirus Products and Resources