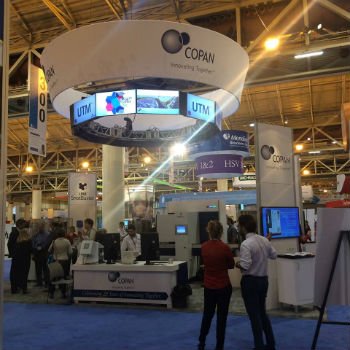 If you are reading this, you have discovered our new COPAN's BLOG page!! Welcome and we hope you join us for many more!! For our very first blog, we wanted to summarize one of our largest events of the year: our participation in the American Society for Microbiology (ASM) General Meeting. Read all about it below!
It is no secret that the annual ASM General Meeting, is one of the most anticipated events in our industry. This year, ASM took us to "The Big Easy," New Orleans, LA, to celebrate COPAN Diagnostics' 20 years of having the pleasure to serve North and South America! For the occasion, we showcased many new innovations at our very visual new booth.
We proudly débuted our Colibrí™, the first universal colony picker for fully automated work-up in Microbiology. The Colibrí™, which means hummingbird in Spanish and Italian, utilizes a diversity of consumables, either prepared in house or from different suppliers. The open platform Colibrí™ can work in-line with ®" href="https://www.copanusa.com/products/liquid-based-microbiology/fecalswab">FecalSwab®. We announced FDA Clearance of FecalSwab®, the newest addition to our Liquid Based Microbiology (LBM) family! FecalSwab® simplifies and standardizes fecal sample collection, transport and processing by converting solid or semi-solid specimens into liquid phase in instrument ready tubes. We think you will find this new product easy to use, easy to transport, and a more compact and easier to manipulate alternative to the traditional large transport containers! If that wasn't enough, FecalSwab® is optimized for use on automated specimen processors. It is the third in our succession of Liquid Based Microbiology products, following the innovations of ESwab™, SnotBuster™, and enrichment broths. If you are not familiar, ESwab™ is the only liquid-based multipurpose collection and transport system that maintains viability of aerobic, anaerobic and fastidious bacteria for up to 48 hours at room and refrigerator temperature. Additionally, the SnotBuster™ quickly liquefies sputum specimens without affecting the morphology, growth or microscopic staining of pathogens in the sputum, for easier, more consistent and reproducible planting and streaking of specimens. Now, the most difficult samples in microbiology are easier than ever for manual processing and for automating almost all specimens that come into the lab!
Better diagnostics began with better samples, as COPAN's success was made possible largely with the introduction of COPAN USA team, COPAN ITALIA team enough for helping us bring it all together. The booth was a great success and we had lots of visitors! We offered countless demonstrations, and gave away hundreds of samples. If you weren't able to visit us to receive a sample, click here to request it today.
It's A Party . . . Celebrating 20 Years in the USA!! This year was extra special, as we were celebrating 20 years in the USA, Canada and Latin America! In true COPAN fashion, celebrated with you, our customers, who have helped us reach this milestone! We decided what better way to enjoy the culture and get into the spirit of New Orleans, than by throwing a Mardi Gras Masquerade? We brought in Mardi Gras masks and colorful beads, served our guests hurricanes as they walked in! But a party is not a party without the right band! For the party, we flew in our favorite San Diego band: The Heroes. The venue provided an endless buffet of food and passed appetizers! All of this took place at a totally picturesque venue in the French Quarter, called Pat O's on The River. The night went on without a hitch, as everyone was up and out of their seats enjoying live music, taking in the sites of the French Quarter out on the balcony or partaking in one or all of the activities provided! Special thank you to everyone that came to help us celebrate 20 years in the USA!