Meet William Faucette, COPAN's Warehouse Director
"You don't want to be opposed to change… you don't want to be that person that says 'I'm unwavering in my stance' – because it doesn't matter what you want. Change is coming anyway one way or another." –William Faucette
William (Will) Faucette is the Warehouse Director for COPAN Diagnostics and oversees warehousing, logistics, transportation, and maintenance of inventories for the company's production and sales. He also oversees all of domestic shipments of COPAN products.
This month will mark 16 years since Will started working for COPAN, one of the longest tenures at the company. He has been with the COPAN long enough to see it grow from a nascent startup-like business, in Corona, CA, to the large company it is today. Will's personal and professional journey is one marked by change, adaptability, and growth.
Will was born in a small town in North Carolina, called Rocky Mountain, and raised in a rural area near Charleston, South Carolina, surrounded by cotton fields. At the age of 16, Will and his family made a drastic change and moved to Newark, CA, when his father was offered a logistics job with Coastal Pacific, a company contracted with the US government to supply military commissaries.
Will reflected on the move stating that "the change in the culture, from every place I lived, was interesting but difficult, especially when trying to navigate as a teenage boy… When I moved to California in 1996, I was raised to address elders with 'Yes, ma'am' and 'Yes, sir.' On my very first day at school in California, I said, 'yes, sir' to my English teacher, and he sent me to the principal's office for being a smart aleck."
Will started working for his father's company during his summers, as a janitor, worked his way into the warehouse, and has been working in logistics ever since. He had a great aptitude and has found a love for the dynamic and organizational nature of the work. He later worked for several other large companies, including Nestle Waters. He didn't like the impersonal feeling of working in such large corporations, where he felt he was a nameless cog in the wheel.
Looking for a chance, he began working for a small innovative company called COPAN Diagnostics. At that time, COPAN consisted of a small group of employees located in a series of building suites in Corona, California.
Will reflected "the change from then, until now is unbelievable. Back then, the relationships with employees were really personal and one-to-one. We would all be doing multiple jobs and helping fill in the gaps for each other. We would have Thanksgiving on two pullout tables in the shipping area, and we would eat home-cooked turkey. I think establishing those early relationships was very important for me. My position has grown over the years, but I can still call Norman [Sharples, CEO COPAN Diagnostics], and he would answer the phone. I can call David [Sharples, Warehouse Manager], and he will help me through any issue. And to me, that means something more."
COPAN continued to grow, adding suites and eventually grew large enough to require an off-site storage facility on the other side of town. Eventually, the company would move to a larger facility in Murrieta, where COPAN's headquarters is located to this day. In 2018, COPAN bought another nearby warehouse building.
The COVID-19 Pandemic
As the COVID-19 pandemic slowly reached public consciousness and shifted into an international crisis, demand for COPAN's UTM® Viral Transport products skyrocketed, and despite ramping up production extremely quickly and tilting up new manufacturing, supply couldn't meet demand. The warehouse and staff worked seven days a week for extended shifts to keep up.
"I can remember working with Norman and literally looking through the racks for products. We found every piece of UTM® we could possibly find to get it into customers' hands so that we could help however we could. We would be there for hours."
Product wasn't arriving from the company's main manufacturing site as quickly as needed because international transportation was ground to a halt. So the public and the private sectors created an 'air bridge' of cargo planes to distribute swabs and kits from COPAN headquarters directly to COPAN Diagnostics' customers. Will and warehouse colleague Bob Beebee and, COPAN's Supply Chain Director, Francisco Cuerva flew to Memphis with government officials and leaders of FedEx in Memphis, TN to help coordinate the effort.
"It was wild. I never imagined I would speak with corporate CEOs and government officials. I'll never forget the time we flew to Memphis to support the initial air bridge of products. I didn't even know it was an experience that could have ever been on a bucket list," said Will.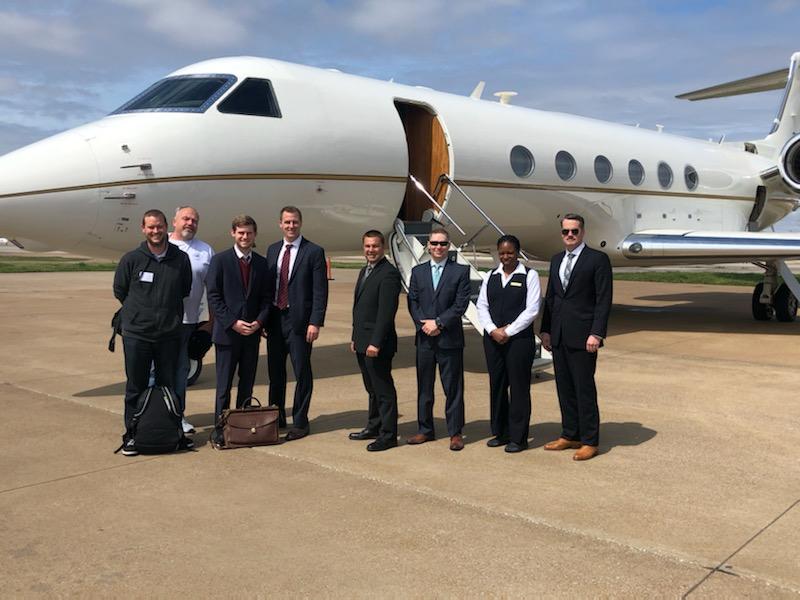 COPAN's warehouse and logistics teams would continue to provide support and documentation for every single product shipment. COPAN also developed and ramped up UTM® production in the United States by building a facility and warehouse managed by David Sharples in Carlsbad, California.
The design, permits, buildout, and regulatory requirements for such a project would typically take at least eight months. But given the importance of COPAN's products for the pandemic response, COPAN was able to do this in a third of the time. In addition, the team worked hand in hand with the city and with the resources of Apple Inc. to help fast-track the project.
"So many people really just worked above and beyond what could have been expected." Will added "they sacrificed a lot of time with their families, a lot of personal time and effort – I have a tremendous amount of respect for all of those people. It was tough, but we did it, and I think we did some good."
"It is not just about us individually" Will continued. "It was a global community of individuals helping in the only way we could help. We could manufacture testing supplies to get it into people's hands so that they receive the right care they need or at least have some peace of mind ."
Building for the Future
As the Carlsbad facility continues to grow, space in the facility is tight and COPAN needed room for further espansion.
COPAN began renting another warehouse in Temecula, CA, temporarily as they planned a new facility dedicated to warehousing. Supply chain shortages for products, such as steel, delayed the project, but the new 12,000 square foot warehouse facility is now right next to COPAN's other buildings in Murrieta. This facility is unique in that it's dedicated to logistics and warehousing and has more available positions for palletized products than in the main facility!
When asked if this new building has enough space, he said, "I don't think for long." He said with a knowing smile "we've never stopped growing, and that's a testament to all of the people that work here on a day-to-day basis. I don't see that growth ending anytime soon. We do a quality job. We offer a quality product, and we all work well together. It's been a fascinating, strange, fun ride, and I want to see where the next ten years take us. I feel like we're just at the beginning of something even bigger than we can imagine."
He continued, "COPAN has helped me realize the greatest things that I've ever done. I would not have been able to have this opportunity to spend time with my family if I didn't have the freedoms that I have here at COPAN and the trust that other people have in me. All the important milestones in my life: having kids, getting married, buying a house have been during my career COPAN. So all of these memories are kind of intertwined together. It's part of what keeps me here. I love it. I mean, it's who I am."
Will met his wife Jamie in 2010 on eHarmony, and from the first date, he didn't want to be away from her. They soon were married and had children Savannah and Jackson. He considers having kids an adventure and thinks it is wonderful to watch them grow. In hid free time he can be found participating in activities with his kids, whether it be soccer, gymnastics, baseball, or boy scouts.
"I enjoy doing activities with them," he said. "I love getting out in the yard and helping my son learn how to swing a bat properly or throw a ball. Or even sitting down and playing Roblox together. It's just those little things that my world centers around right now.
Of course, my wife and I might get a chance to go out with just the two of us on a very rare occasion. But the only thing we talk about is the kids while we're gone…you know it's just our world, and I love it", concluded Will.