International Women's Day: Women in STEM
Monday, March 8th marks International Women's Day (IWD) — a global day celebrating women's social, economic, cultural, and political achievements. IWD is a day that marks a call to action for accelerating gender parity. This year, the theme is "Choose to Challenge," and it encourages all of us to call out gender inequality and bias in the world and seek out and celebrate the achievements of women to help create a more inclusive world. This year, we will shine a spotlight on gender inequality in STEM jobs and explore what we can do about it.
What is a STEM job, and who works in those careers?
A STEM job is a profession within the broad categories of the Sciences, Technology, Engineering, and Math (STEM), as well as health-related occupations, including healthcare providers and technicians. Careers in these fields tend to be some of the highest-paying and fastest-growing jobs of today. Jobs in STEM are estimated to grow considerably over the next few years. According to the Pew Research Center, a typical STEM job pays two-thirds more than those in other fields.
Despite women being roughly half of the population, men vastly outnumber women in STEM fields. In fact, women only make up 28% of the workforce in STEM occupations. The figure below provided by the US Bureau of Statistics shows that women are not evenly distributed in STEM professions. Women have the highest proportion of roles in Biology and Health Sciences (45%). Still, in some of the highest-earning STEM occupations, such as computer science and engineering, women have the lowest percentages of women workers — only make up less than 15% of Engineers and Architects.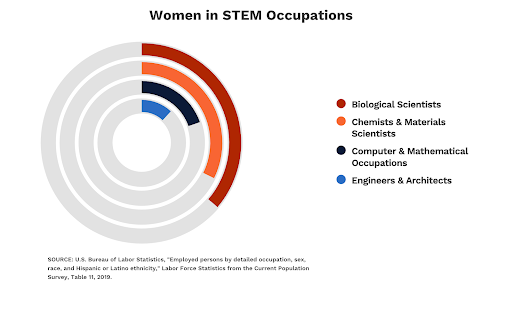 Why is there a gender gap in STEM professions?
There are a few reasons experts believe that women are not working in lucrative STEM professions as much as men are.
Gender Stereotypes – STEM fields and areas of studies are often seen as more masculine fields. Despite that, research shows no innate cognitive, biological differences between men and women in math. Many girls lose confidence in these subjects by the 3rd grade. In contrast, boys show increased support and confidence levels by the second grade.
Toxic Workplace Cultures – Often, fewer women in STEM careers means that these fields are dominated by male culture. These cultures can often be toxic and unsupportive of women. Over 40% of women in any workplace have expressed that they have experienced workplace discrimination. The figures are worse in male-dominated STEM workplaces. Compared with those in non-STEM jobs, women in STEM professions are more likely to say they have experienced discrimination in the workplace (50% vs. 41%).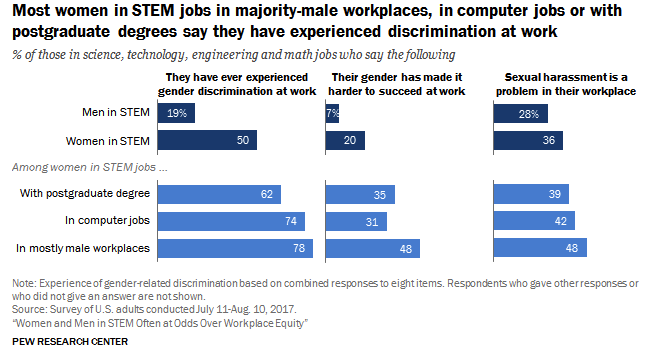 How can we make a difference?
Change starts with us, and it is up to us to "Choose to Challenge" stereotypes and discrimination. Together we can raise and promote public awareness that women and girls are as capable as boys in math and science. We can also emphasize women who set examples in STEM fields — especially women of color in science.

We can support learning opportunities in these subjects and reinforce positive messages about their abilities and teach a growth mindset that empowers girls the learn and explore math and science fields.

There are also many apps and online programs designed to help children learn STEM skills like computer engineering and coding like Hopscotch. Hopscotch is a women-owned mobile app company that teaches kids to program their own programs and games.

We can also make a difference by encouraging strong workplace support for women and by standing against any form of harassment. COPAN is a women-owned company and a place that has been dedicated to giving women equal opportunities to pursue and thrive in STEM careers. Doing so helps narrow the gender pay gap, enhances women's economic security and ensures a diverse and talented STEM workforce, and prevents biases in these fields and the products and services they produce.
COPAN has always maintained that all people are entitled to fundamental human rights and respectful standards of treatment. This belief is deeply rooted in our core values and our longstanding commitment to diversity and inclusion. Together we can create and maintain a happy, healthy, and encouraging environment in our own STEM workplaces!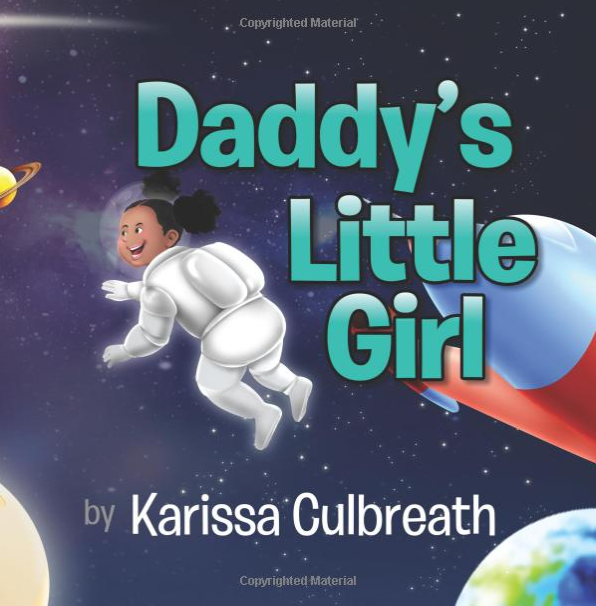 Women in STEM Spotlight
Did you know that Dr. Karissa Culbreath is not only the successful Director of Infectious Disease Laboratory for TriCore Reference Laboratories, a woman in STEM, but also wrote an empowering children's book, Daddy's Little Girl, encouraging girls to grow up to be whatever they want to be!