Automatically Manage Traditional Manual Processes for Improved Speed, Traceability and Elimination of Transcription and Transposition Errors, while also Reducing Repetitive Stress Injuries.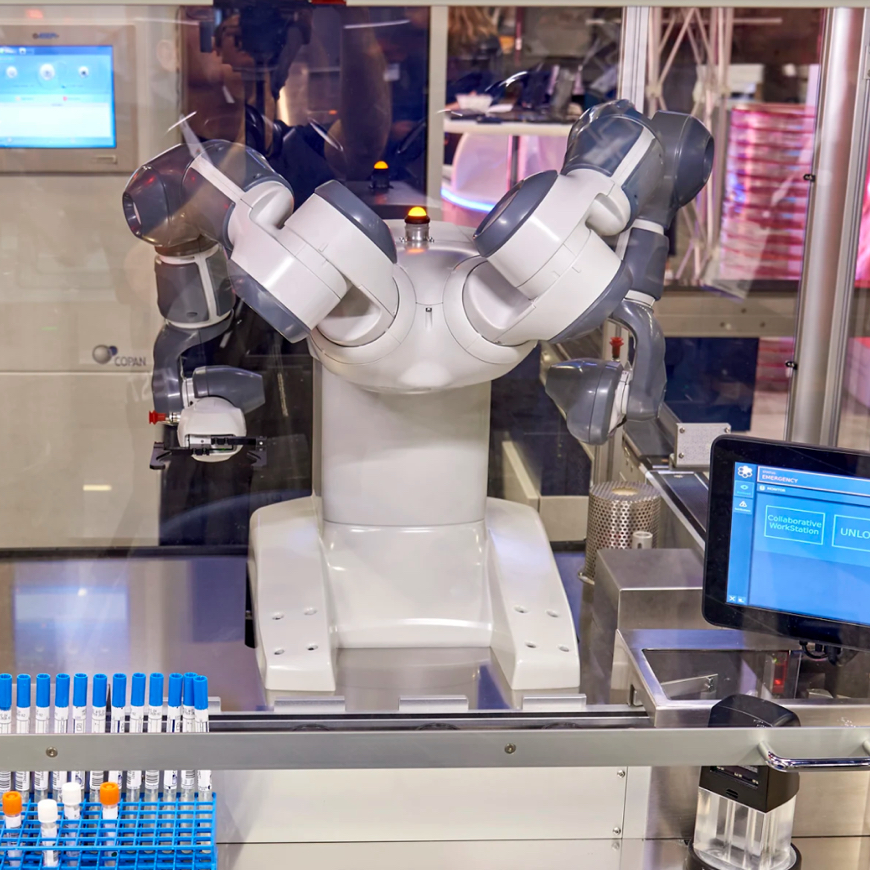 Collaborative Robot modules offer interactive and fully automatic workstations designed for various manual tasks in the microbiology laboratory.
Collaborative Robot for Microbiology
Manage Offline Samples Semi-Automatically
The Collaborative Robot HEPA Filtered Bio-Safety Workstation enables the management of difficult offline specimens, such as tissues, bone or sterile fluid samples, traditional transport swabs, blood cultures, and non-standard collection and transport devices. Using the dual-arm Collaborative Robot Workstation for difficult offline specimens, in conjunction with WASP®DT for routine sample processing, the Microbiology laboratory can completely enjoy the benefits of Full Laboratory Automation.
Collaborative Robot Workstations are designed to safely interact with the human operator. Using the Collaborative Robot Bio-Safety Workstation, once the label is scanned by the technologist, the robots automatically present the precise sequence of plates and materials for specimen setup to the user for sample inoculation. The robots then streak the plates, and then forward them onto the track system that transports plates to the WASPLab® Imaging Acquisition Stations and Smart Incubators.
Other Collaborative Robot Workstations further expand robotic capabilities to include managing AST panel set up and out-of-hours positive blood culture bottle management. Those modules will be available soon.
The Collaborative Robot can simplify many manual and random tasks, and depending on workflow and workload, may be effectively used in tandem with WASP®DT to perform:
Positive Blood Culture Bottle Workup
Culture of Ground Tissues
Wound Aspirate Cultures
Sterile Body Fluid Cultures
Culture of Traditional Fiber Wrapped Swab Samples
AST and ID Panel Setup
Click here to see Collaborative Robot in action!