Does ESwab Work for Pathogenic Fungi?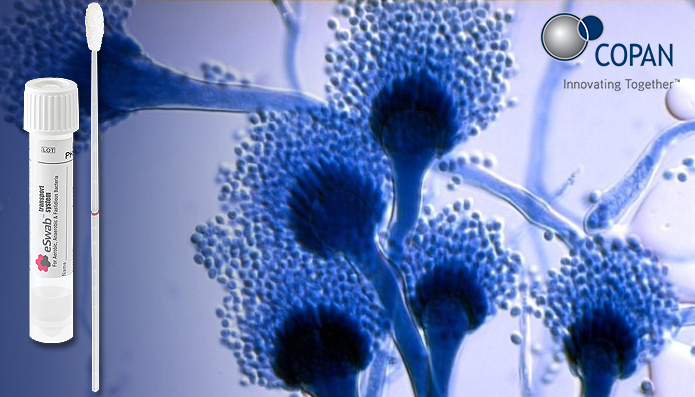 ….That is one common question asked about ESwab™. While swab specimens are not considered the optimal sample type for some fungal investigations, many laboratories still receive swab samples requesting fungal cultures investigations. So, the question of the efficacy of COPAN's multipurpose collection and transport device when faced with preservation of samples that contain pathogenic fungi often arises.
While there is extensive information to support ESwab™'s excellent performance with aerobic, anaerobic and fastidious bacteria, for the first time a study aimed at researching the question about fungi was published by the Journal of Clinical Microbiology. This groundbreaking study answers the question about ESwab™ and its ability to maintain and recover the most commonly isolated pathogenic yeasts and filamentous fungi for at least 48 hours at both refrigerated and room temperature.
"Typically, the standard panel of bacterial strains chosen to validate the transport media represents a diverse group of bacterial challenge organisms. However, the panel does not include any fungal pathogens. Also, there are no formally published data on the viability of filamentous fungi during transport using swab-based systems," wrote Bharat Gandhi et al., in the "Evaluation of COPAN ESwab Transport System for Viability of Pathogenic Fungi Using Modification of Clinical and Laboratory Standards Institute M40-A2 Document". It was noted by Gandhi et al that "[d]ue to labor, resource intensity and incubator space restriction, these types of studies are seldom conducted."
That all changed with the release of this 2017 Journal of Clinical Microbiology publication.
"Results indicated that the COPAN ESwab™ system effectively maintains prevalent opportunistic fungal organisms for at least 48 hours," the researchers concluded in the Toronto, Ontario Mt. Sinai Hospital and University Health Network study.
Composed of 1mL of Liquid Amies and one flocked swab (FLOQSwab®), ESwab™ enables laboratories to collect fewer patient samples and conduct multiple tests from just one sample.
Finding Yeast and Fungi
Preliminary data on this subject was presented in 2010 at the American Society of Microbiology (ASM) General Meeting, but ESwab's ability to maintain the fungi was tested on nine organisms at Room Temperature (RT). This time, the team of researchers expanded the scope of the research to a much wider selection of organisms and evaluated the device's ability to maintain the pathogens at both RT and refrigerated temperature, using similar quantitative methodologies as described in the document M40-A2(1) Quality Control of Microbiological Transport Systems of the Clinical Laboratory Standards Institute (CLSI).
To discover the performance of ESwab™ at both RT and refrigerated temperatures, the scientists collected a total of 19 clinical and reference strains and inoculated the strains on the swab. To ensure that ESwab™ was challenged, the team chose a diverse panel of the most commonly isolated group of pathogenic fungi which included four yeasts, three dermatophytes, two dematiaceous molds, two Zygomycetes and eight opportunistic molds. Using the roll plate method, as described in the CLSI- M40-A2 standard the fungi were tested at 0, 24 and 48 hours at refrigerator temperature (2 to 8ºC) and RT (20 to 25ºC).
As more and more laboratories are adopting COPAN's versatile ESwab™ system, the researchers believed "it was important to validate a broad spectrum of pathogenic fungi to assess the viability by this mode of transport to allow for successful work up." ESwab™ shows that it is an even more well-rounded device that simplifies and improves collection, maintenance, and transport for detection of clinically relevant pathogens.