COVID-19 Sample Collection and Transport Resources
CDC and FDA Guidelines
---
---
What Kind of Swabs are Suitable for COVID-19 Sample Collection?
As outlined in the CDC guidelines for the collection and handling of clinical specimens from patients suspected of being infected COVID-19, health care workers should only use synthetic fiber swabs with plastic shafts. [1]* According to the FDA, "nasopharyngeal (NP) specimens are generally considered to yield the most sensitive test results" and "sample collection with a flocked swab, when available, is preferred"[2] Both of the CDC and FDA recommendations are covered when using a COPAN NP FLOQSwabs®.

*Do not use calcium alginate swabs or swabs with wooden shafts when testing for COVID-19. These swabs can contain substances that inactivate some viruses and can inhibit PCR testing [1].
Click Here to learn more about COPAN's flocked swabs
---
What Sampling Method is Appropriate for COVID-19 Detection?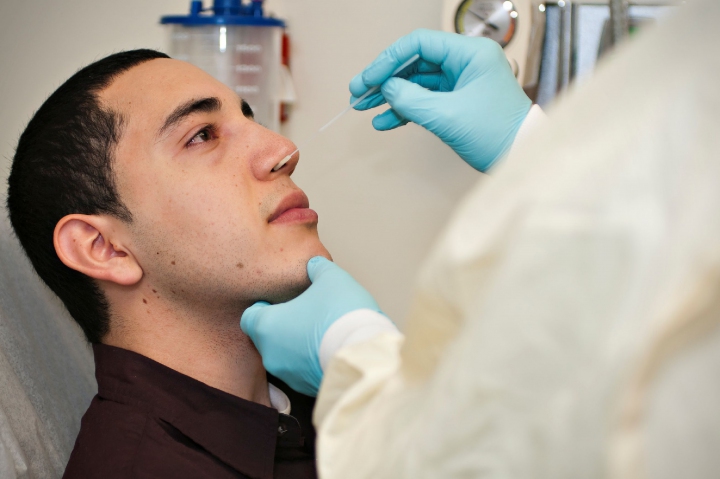 In the CDC Interim Guidelines for Collecting, Handling, and Testing Clinical Specimens from Persons Under Investigation (PUIs) for COVID-19, the CDC recommends collecting and testing a NP swab. If both a nasopharyngeal and an oropharyngeal (OP) swab are taken, the specimens should be combined at the collection site into a single transport vial. [2]
Multiple specimens from the same patient may be taken with a single swab. If more than one swab is used for collecting specimens from two different locations in the same patient, both swabs may be placed in the same vial in order to conserve collection and assay supplies.

(Read the section below "Are There Good Alternatives to Nasopharyngeal Flocked Swabs for COVID-19?" if stock is unavailable)
What Kind of Testing Method is Used To Screen Employees, Students, and Groups for COVID-19?
Research shows that pooling samples, or combining multiple samples, can be an effective way to screen groups with a low prevalence of COVID-19. By pooling samples, testers are able to significantly increase the number of individuals that can be tested at a lower cost. Pooling increases the number of individuals that can be tested using the same amount of resources and can detect both symptomatic and asymptomatic persons.
Designed to streamline and ease the burden of COVID-19 testing, PodSwab™ consists of 6 mL UTM®: Universal Transport Medium™ and 5 nasal flocked swabs allowing for up to five different individual samples in each tube. This format is designed for testing groups or pods of people, helping businesses and schools efficiently screen employees and students, saving costs and time. This efficient grouped method of testing is called pooled testing.
Are There Good Alternatives to Nasopharyngeal Flocked Swabs for COVID-19?
In this video, Norman Sharples, COPAN Diagnostics' CEO, discusses the different sites and swab materials available for sample collection for COVID-19 based on the FDA Guidelines as of April 1, 2020. FDA believes that a nasopharyngeal specimen is a preferred choice for swab-based COVID-19 testing.
According to the FDA, if a nasopharyngeal specimen is not available, the following are acceptable [2]:
Oropharyngeal (OP) specimen collected by an HCP using a swab with a full-sized tip;
Mid-turbinate specimen collected by an HCP or by onsite self-collection using a specialized, flocked tapered swab; or
Anterior nares specimen collected by an HCP or by onsite self-collection using a flocked swab, round foam swab, or spun fiber swab. For anterior nares specimen collection, a swab with a full-sized tip (OP-type swab) is generally preferred over a swab with a mini-tip (NP-type swab).
The situation regarding the types of sample collection kits acceptable for COVID-19 testing remains fluid. Consult the current CDC and FDA guidance.
---
What Transport Media Should be Used for COVID-19?
eNAT™ is another versatile system that combines the COPAN-invented FLOQSwab® with 1 mL Guanidine-thiocyanate based medium that stabilizes the RNA and DNA of Viruses, like COVID-19, Bacteria, Chlamydia, Trichomonas vaginalis, and Mycoplasma.
A recent study published in "Viruses," revealed that COPAN's eNAT™ inactivate SARS-CoV-2 within minutes of exposure to the transport medium. COPAN's eNat™ was recently fast-tracked for clearance by the FDA for Flu A RNA stabilization and has implied use for COVID samples as well.
---
What Kinds of COVID-19 Sample Collection Kits are Available?
COPAN makes COVID-19 collection and transport kits that are compatible with the recommended configuration that pairs 3mL of UTM® universal viral transport medium with flocked swab(s).
Also, healthcare providers can quickly assemble in-house sample collection kits and place the items in a Ziploc/Minigrip bag for distribution using the different COPAN item numbers listed in the section below.
---
Online Ordering and Distributor Links
COPAN now offers purchasing sample collection supplies directly from the leading manufacturer in sample collection! Click the button below to visit our new online storefront.

Distributor Links
Our products are also available through our distribution partners. Click on the button below to navigate to our part number cross-reference list to find COVID-19 products, vendors, and corresponding part numbers.
---
Illustrated Sampling Guides for COVID-19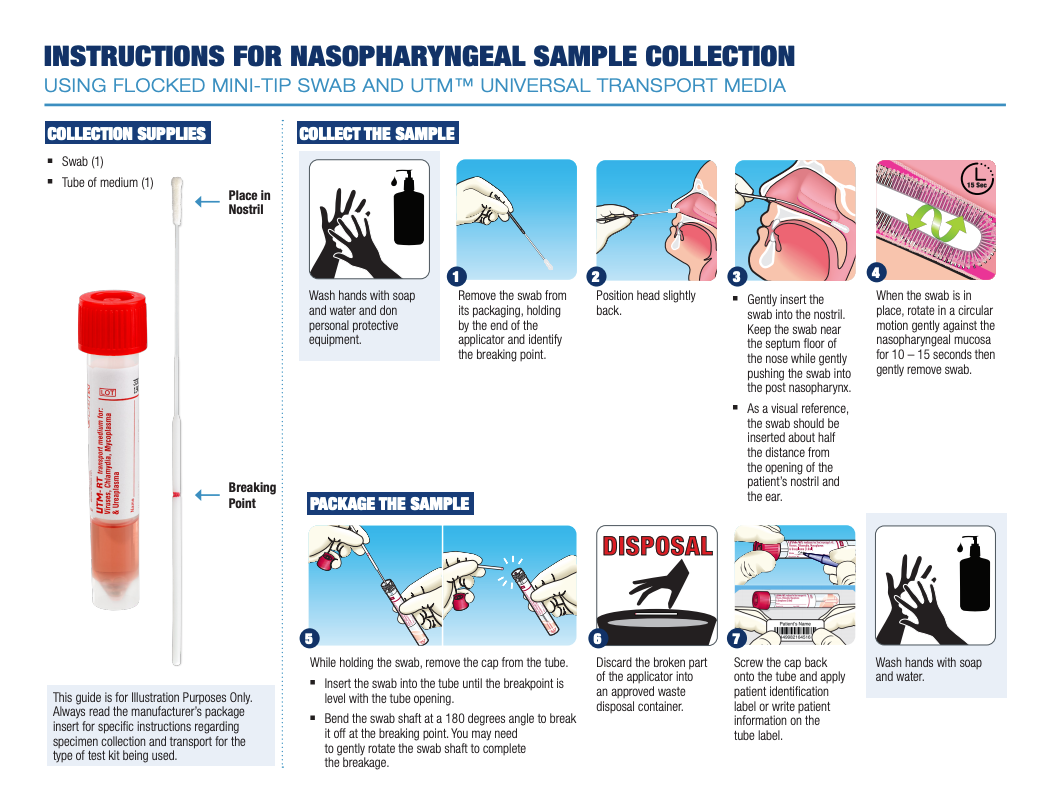 There are 3 recommended sample sites for both COPAN ESwab™ and UTM®: Universal Transport Medium™ collection kits. Below are examples of guides that can be used to illustrate how to collect viral specimens from different sites. Always read the manufacturer's package insert for specific instructions regarding specimen collection and transport for the type of test kit being used.
Nasopharyngeal Collection
---
Oropharyngeal Collection
---
Anterior Nares Collection
---
---
Additional COVID-19 Resources
The information and research around COVID-19 are rapidly evolving. Below, we have included several resources to help stay current on the most important developments.
Pubmed Resources

ASM Resources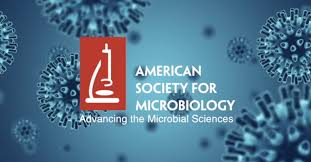 An expert-curated collection of the latest and most significant research findings and information about COVID-19. Topics include Basic Virology, Clinical Diagnostics, Treatment, Prevention & Epidemiology.
A page including general information on COVID-19, infection tracker and Q&A with Robin Patel, M.D., President of ASM, Chair of the Division of Clinical Microbiology and Director of the Infectious Diseases Laboratory at Mayo Clinic, in Rochester, Minnesota
CDC Resources
Find maps and charts tracking cases, deaths, and trends of COVID-19 in the United States, updated daily by 8 pm ET
---
References
Centers for Disease Control and Prevention. (2020, February 14). Coronavirus Disease 2019 (COVID-19): Guidelines for Clinical Specimens. Retrieved February 27, 2020, from https://www.cdc.gov/coronavirus/2019-nCoV/lab/guidelines-clinical-specimens.html
Food and Drug Administration COVID19 FAQs website: https://www.fda.gov/medical-devices/coronavirus-covid-19-and-medical-devices/faqs-testing-sars-cov-2
---